This year on November 15, Sachin Ramesh Tendulkar completes his 20th year in international cricket. What an incredible achievement that is. Tendulkar has always been the lone cricketer whom I loved so much as any other Indian does and he was one of the main reasons I started loving cricket more everyday. The man is such a complete human on and off the field that he seems to have a divine aura surrounding him. Of course comparisons with Brian Lara and Ricky Ponting and of course the Don himself will always be there, but none of them have even come close to experiencing the pressure and the weight of expectations that Tendulkar has had to face and succeed all these 20+ years. To have come through all such things and still have all the great cricketing records in his name, man he is the modern-day cricketing God! I am 21 years old now and this guy has been playing cricket successfully for 20 years! What a man!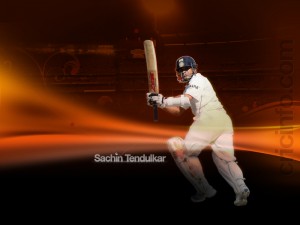 There is not a single eyesore when watching Tendulkar play – the divine straight drive, mesmerizing dance down the track to the spinners to hit a six, the delicate sweep and a unique paddle sweep, the brutally punishing upper-cut, inimitably perfect backfoot cover and square drive, natural flick shot, damaging hook and pull shot, the brand new reverse-sweep and scoop shots – you name any shot, this man plays it perfectly. All these years, he has grown and matured with the game, adapting himself to a variety of roles and challenges and performed outstandingly at each of them.
Enough of praising this man for whom any quantity of praise will always be insufficient. Let me quote my favorite innings that this man has played – a few of which I couldn't watch.
1. Chennai test century against Pakistan braving a career-threatening back spasms taking India to the threshold of victory before others blew it.
2. 1998 Australian tour to India where he single-handedly took on and demolished the Aussie bowlers, particularly Shane Warne, pulling him for 4s and 6s from the rough – a territory where no one had ever dared to be in and the memorable twin "Desert Storm" innings which ensured that India made it to the finals of the tri-nation Sharjah cup and won it. After this tour, Shane Warne was no longer invincible and he started having nightmares of Tendulkar.
3. Century against Kenya in the 99 World cup a day after losing his father. He didn't quit the tournament when he could have easily done so. He came back a day after the bereavement and hit a century and dedicated it to his father! That was very emotional and touching.
4. Brutal innings against Pakistan in the all-important 2003 World Cup encounter and I can still remember Tendulkar upper-cutting the then fastest bowler Shoaib Akthar for a six over backward point. That was quite an emphatic innings and statement made to the opposition after living in anticipation and pressure regarding that match for over a year.
5. Tendulkar has always been blamed for not winning enough matches for India, but he did single-handedly take India to an emphatic victory in the finals of the 2007-08 VB series with match-winning knocks. That was wonderful achievement for the man who has always reserved his best for the best team in the world.
6. A patient and composed century against England at Chennai took India to a victory that seemed impossible when 3 innings of the test were over with 4 sessions to play and 280 runs to win. Sehwag blasted the hapless English attack on the final session of the penultimate day to allow India a really good chance at chasing down. Still on the fifth day even though there was continuous progress in the score, wickets too were falling. At the fall of the fourth wicket, Yuvraj Singh, still sadly not a settled Test batsman came to the crease. Tendulkar shepherded him in the initial stages that Yuvraj, once settled, tore apart the attack and paved way for the improbable Indian victory with Sachin who scored the winning runs and reached his century at the same time with a boundary. Tendulkar was emotional about the victory and dedicated his match-winning knock to the victims and survivors of the gory 26/11 terrorist attacks in Mumbai, his home.
7. For a man who possesses such a silken cover drive, not to play that shot throughout a marathon innings of 241 not out is a great achievement. Tendulkar realized that he was getting dismissed playing the cover drive too often and totally cut out that shot, not even playing that shot once during a wonderful innings.
8. Cometh the hour, cometh the man, Tendulkar's recent sublime 175 against the Australians chasing an impossible 350 which almost won the match for India reminded me a lot of the Tendulkar of old. It was such an enlightening experience watching that knock but as always Indian team failed miserably to cross the last hurdle, losing the match and breaking Tendulkar's heart yet again.
9. Tendulkar has always played very well against the Kiwis – his first-ever double ton was against them. His highest score – highest by an Indian, 186 not out and the 160 odd not out he scored during India's recent tour to New Zealand are fresh in memory for their exuberance and flair.
The list is endless and could go on and on, but I have to stop. Some unforgettable memories etched in mind are – the picture of Tendulkar pulling Shane Warne from the rough for a 6, uppercutting Shoaib Akthar for a six, the divine straight drive that shows up when in full flow, the hook against Andy Caddick in 2003 WC for a six, the cheeky uppercut over the slip cordon against the Aussie quicks. I have grown up with cricket and Tendulkar all my life and I can't imagine cricket without this great man who still is as enthusiastic, passionate and energetic as he was at 16 and definitely he has a lot more years of cricket left and I am awaiting all wonderful innings eagerly. Hats off!